Carolina Cat Emergency Vehicle Services to cover 4 Guys Fire Truck Sales in the Carolinas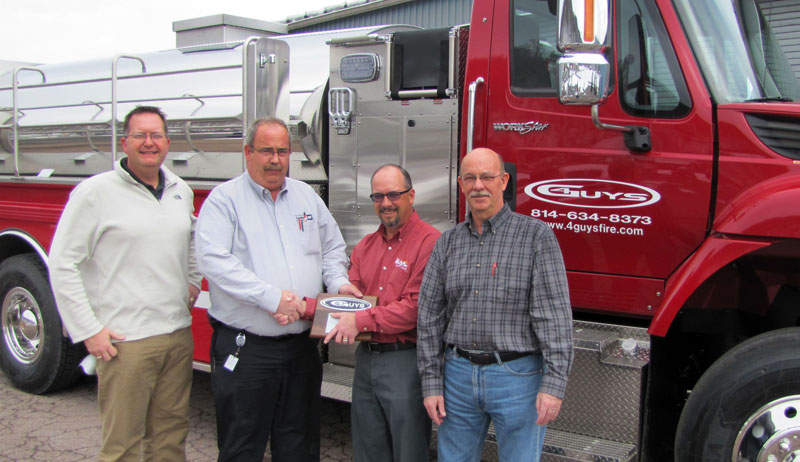 General Manager Mark Albright and Sales Manager Fred Meyers welcome Carolina Cat team members to the 4 Guys Sales force.
(Seen here, from left to right are: Garriett Bailey, Sales Manger, On-Highway Truck; Ben Ezzell, Carolina Cat Emergency Vehicle Services Manager; Mark Albright, 4 Guys General Manager; and Fred Meyers, 4 Guys Sales Manager.)
---
April 1, 2013


Meyersdale, PA - 4 Guys Fire Trucks announced today the addition of Carolina Cat Emergency Vehicle Services, headquartered in Charlotte, North Carolina. Since 1926, Carolina Cat has been committed to being their customers' trusted partner and providing exceptional sales, parts, and service. They will cover fire truck sales in eastern, central, and selected areas of western North Carolina, as well as South Carolina.

Carolina Cat has 5 locations to provide sales and service for 4 Guys Fire Trucks:
ASHEVILLE, NC
39 Interstate Boulevard
I-40, exit 47
Asheville, NC 28806

CHARLOTTE, NC
9000 Statesville Road
I-77, exit 18
Charlotte, NC 28269

GREENSBORO, NC
6215 Swiggett Road
I-40, exit 211
Greensboro, NC 27409

MONROE, NC
2211 Morgan Mill Road
Highway 200
Monroe, NC 28110

STATESVILLE, NC
113 Watermelon Road
I-40, exit 146
Statesville, NC 28625

Carolina Cat has a full team of EVT and ASE® Certified Technicians, as well as 24/7 mobile service. "We are very optimistic about the business prospects for Carolina Cat," said Fred Meyers, Sales Manager for 4 Guys Fire Trucks. "With the complexity of today's fire apparatus and limited manpower, our customers need high quality dependable systems. Carolina Cat will not only provide a high level sales experience for our customers, but will be able to provide reliable service for our vehicles after the sale." Carolina Cat Contact information: Ben Ezzell, Emergency Vehicle Services Manager
Email: bezzell@carolinacat.com
Phone: 704-731-7537 (office), 704-770-7904 (mobile)
Visit Carolina Cat Emergency Vehicle Services online for more information: www.carolinacat.com/evs
---
This article about 4 Guys Fire Trucks appears in the Spring 2012 issue of Management Today Magazine!


Click to read
the full article.
Although the company has grown significantly larger than its name suggests, 4 Guys Fire Trucks maintains a close-knit atmosphere that helps retain a knowledgable and experienced workforce. According to General Manager Mark Albright...
---
New Production Manager Brings Depth of Experience to 4 Guys Fire Trucks
Meyersdale, PA — April 17, 2012

When Production Manager Brad Harbaugh started working at 4 Guys Fire Trucks — the day after his high school graduation in 1987 — he had no idea where his career would take him. He also never imagined that the journey he began that day would lead him, 25 years later, back to the same place it began.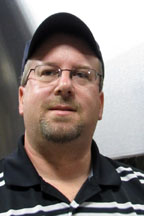 Brad Harbaugh

"I started as an electrician-trainee," says Harbaugh "I didn't know anything about building fire trucks."

After 5 years at 4 Guys, Harbaugh left the company to take a position as the electrical supervisor at New Lexington Fire Equipment in Rockwood, Pennsylvania.

But after a few years, it was time to move on; this time to become a customer service and warranty administrator at E-One, a fire truck manufacturer based in Ocala, Florida.

"When I left E-One, I started my own business," Harbaugh says, "but when you are in business by yourself, it's hard. So I became a paid firefighter." Harbaugh worked for 6 years as a paid firefighter in Huntersville, North Carolina, before getting back into the fire apparatus business — this time in Lancaster County, Pennsylvania with Crimson Fire Aerials. "Over the years, I've worked in a lot of different areas of the fire truck business. I've built the trucks, done CADD design work, worked in customer service, and spent several years on the road as a trainer and demonstrator, teaching fire departments how to operate their new ladder trucks."

It is that broad base of experience, says 4 Guys General Manager, Mark Albright, that makes him uniquely qualified for the position he now holds — Production Manager of 4 Guys Fire Trucks. "Brad has been around the industry over the years, and has done a lot of different jobs. He has experience in many facets of the business, and he brings a fresh perspective to our operation."

"I'm a Rockwood boy," says Brad. "I grew up just a few miles from here. I've worked in different areas of the industry and the country, but my wife and I decided it was time to come home." In March, the Production Manager position became available when Dick Seibert decided to retire.

Seibert has been with the company since its beginning. "When the doors opened that first day, thirty-seven years ago, Dick Seibert was here. He's the only production manager we've ever had," Albright says. "We're in transition right now. Dick has been working with Brad to help get his feet under him for a few weeks." Beginning April 1, Seibert will work part time for a few more weeks as he eases into retirement in June.

"What I hope to do in this job," Harbaugh says, "is to look closely at our manufacturing process to see what we need to keep doing, and what we might do even better. We build a great product, and just like everyone in our office or on our manufacturing floor, I want 4 Guys to be the best it can be. And besides that, it's just good to be home."