4 Guys Says Goodbye to Long Time Employee
---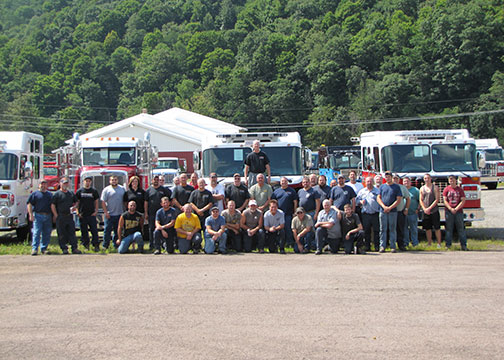 July 27, 2015


Meyersdale, PA - We are at once delighted and disheartened to announce that Keith "KO" McCormick has decided to retire.

A skilled electrician, Keith started his career at 4 Guys on October 17, 1986 and served the company with pride for almost 29 years. On Friday, July 24, 2015 the employees celebrated Keith's last day. Everyone at 4 Guys appreciated his great work ethic and dedication to the company. We all wish him the best and a very happy, well deserved retirement.
4 Guys Welcomes New Engineer
---

May 29, 2015


Meyersdale, PA - 4 Guys Fire Trucks would like to take the time to welcome our newest employee, Cody Wedge. Cody graduated from The University of Pittsburgh at Johnstown in early 2015 with a degree in Mechanical Engineering and Technology. Learning the ins and outs of building fire apparatus can be cumbersome at times, but with the help of the others in the engineering department, Cody is doing very well. We have no doubt that he will do great things for the company.

When he's not learning everything he possibly can remember about fire trucks, Cody enjoys camping, fishing, playing soccer, and spending time with his family. He is excited to start this job right out of college and looks forward to having a long lasting career here at 4 Guys Fire Trucks.
New Sales Representative
---

March 19, 2015


Meyersdale, PA - Jon Knepp of Bunkum Fire & Safety has joined the 4 Guys sales team and has given 4 Guys the opportunity to serve the state of Indiana.

Jon has been a member of the Madison Township Volunteer Fire Department for five years where he currently serves as the secretary. He is a great addition to the 4 Guys sales team because Jon has such a strong passion to help fire departments get the apparatus that best suits their needs while keeping within their budgets. In Knepp's spare time, he enjoys golfing, hunting, farming, and spending time with his family. Jon is excited to be given the opportunity to represent one of the industry's leaders. We here at 4 Guys are also excited about being able to expand our area of sales and look forward to having a great long lasting relationship with Jon.

To contact Jon Knepp of Bunkum Fire & Safety please call (812)-698-3619 or send an email to bunkumfireandsafety@hotmail.com.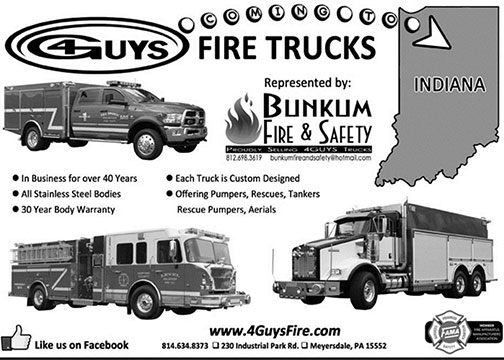 ---
4 Guys Promotes New Production Manager

January 23, 2015

Meyersdale, PA - 4 Guys Fire Trucks is pleased to announce that Mike Lane has been appointed as the new Production Manager.
Mike started out building the truck bodies and then became an electrician and has been in the shop at 4 Guys for 30 years. "It is great to have a long time employee like Mike move up and do such a great job" said General Manager Mark Albright. "Being a part of 4 Guys for so many years has given Mike the knowledge to be able to exceed the expectations of his position". Here at 4 Guys, we all look forward to having Mike as the Production Manager for many years to come.
In his spare time, Mike is an avid hunter and likes to spend time with his family.
Mike can be reached by phone at (814) 634-8373, or by email at mlane@4guysfire.com.